Legacy Custom Homes:
Unparalleled Expertise and Skilled Craftmanship
Given the right tools and information, most anyone could construct a home from basic materials and a healthy dose of common sense. However, Josh Edwards, owner of the award-winning Legacy Custom Homes in Lee's Summit, Missouri, creates homes from the stuff of which dreams are made, all specifically tailored with passion, unparalleled expertise, and skilled craftsmanship. He does not just put up a floor, four walls and a roof. He creates rooms to hold a thousand memories or more in a place where, if walls could talk, a true legacy of love would be revealed, inspired by the families who reside in them.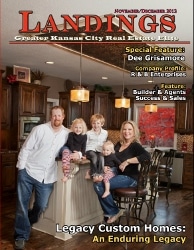 Although Josh officially began building homes in 2000, he honed his skills at a very young age. Growing up in a construction family, he has drywall in his veins and presumably bleeds floor plans when he cuts himself. Both his father and stepfather were builders, and over the years, he has built an impressive resume, replete with experience in framing, digging basements, installing plumbing, pouring foundation walls, wiring homes for electricity, installing HVAC systems, and even putting on roofs. He literally worked his way from the ground up, so his foundation in the business is rock solid.
"I was cleaning up jobsites at age 12 and by age 15, working on construction sites was my full time summer job," Josh said.
This Lee's Summit native and graduate of Rockhurst High School established his company when he was all of 21 years old. After returning from school at Oklahoma State University, Josh started his first company while completing school and graduating from Central Missouri State in Warrensburg. No stranger to a full schedule, he also did an internship in Atlanta, Georgia with Jerry Ballard Homes while still in college. However, the call to follow his own path continually tugged at his heart and when he sold his first home back in the Kansas City area at the time, he instinctively knew what he had to do.
"After I sold that first home, I realized having my own company was what I really wanted to do," recalled Josh. He obtained his Bachelor of Science degree in Business Management, paired that with his vast work experience in the industry, and laid the foundation for a successful and trusted business that, over a decade later, shows no signs of slowing down any time soon.
Due to his vast experience in the home building arena, Josh is viewed as more than just an expert in his field but also as a trusted guide and educator. Whether one is building that first home or is a veteran in the process, Josh will walk with his clients every step of the way as their dream home becomes a reality.
With offices in Lee's Summit just off 291 Highway, Legacy Custom Homes builds all over the metro area, and has also traveled up to a few hours away to build for clients, but the current emphasis is in The Paddock neighborhood in Lee's Summit. This is the perfect place to indulge your love of the country while still remaining accessible to all of the amenities of the city. Legacy Custom Homes is consistently recognized for affordable housing and "best of communities", and The Paddock neighborhood does not disappoint as it provides its residents with a tranquil setting reminiscent of country living yet convenient to excellent schools, restaurants, and shopping areas. It's a place where family values are known and lasting memories are created.
However, just as Josh dreams big for himself, he also dreams big for his clients. This hands-on builder does not sit in an ivory tower as an oblivious figure. Instead, this true visionary is on deck and ready to work with his clients throughout the entire process. He understands that building a home can be exciting, intimidating, and sometimes frustrating all rolled into one, but when his clients start the process, the enthusiasm soon kicks in and before the home is even completed, they can almost hear the noise of family gatherings to come, football games in the front yard, and birthday parties being celebrated. No matter what one's preferences – a larger kitchen, outdoor features for entertaining, and even handicapped-accessible bathrooms and entryways, Josh can bring most any idea to life, and is on-hand throughout the entire process to ensure premium results and the utmost in customer satisfaction.
"I am not an office-type builder," he explained. "I don't build from behind the desk. I am out at the job sites."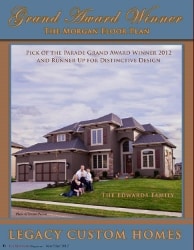 And forget everything you think you know about production building. Josh does not cater to the cookie cutter assembly line. This custom builder works with a leading architect, collaborating on unique plans and is none too shy about revealing where his true colors shine, and rightfully so.
"I am at my best when I am sitting down with clients and taking various aspects of what they desire in their new home and bringing that all together into one cohesive plan," he said. "I see the big picture and am able to create what they have envisioned and bring their dream home into reality. I really enjoy seeing it come together that way."
As a custom home builder, Josh builds around his clients' liking, not his. These are not builder-inspired homes.
"I take into consideration how they live and work," he explained. "The home we build is designed to make a unique statement about who they are and their lifestyle. I genuinely listen to what they want and use that as the basis for the overall design and floor plan."
Additionally, Josh will work with each client in determining the right size of home, the perfect lot, and will even assist with securing financing. He brings a wealth of knowledge to the table and makes the process as seamless and as effortless as possible.
Most of the homes in the Paddock range from $350,000 – $500,000 and boast anywhere from 2,900 square feet up to 4,500 square feet, with some averaging 6,000 square feet. All have three car garages and, with lot sizes of 90' by 150', are just shy of one-third of an acre.
"This neighborhood was designed with a different mentality," noted Josh. "While there is a community feel and a decided welcoming presence, the large lot sizes bring a sense of having that private and personal space to enjoy."
Unique to these impressive homes are the outdoor living spaces, something about which Josh is very passionate.
"I believe that outside living is just as important, if not more than, indoor living," Josh expressed. "I love an outdoor kitchen and beautiful landscaping. All of the Josh's homes in The Paddock have covered back porches and are wired for a television."
Every home built by Legacy Custom Homes is truly a work of art in that each is given its own special touches, such as artistic woodwork, a tin-stamped ceiling, or faux finishes. Even the granite countertops are standouts on their own.
"We use brushed marble and granite to create a textured feeling and look," Josh said. "Some of them actually feel like leather to the touch."
Even the driveways deserve a second look, each one designed and cut to look like tile. You just might feel like rolling out the red carpet every time you come home!
A family man at heart, Josh is married to his wife Lanni, and they have three children: son Morgan, and daughters Avery and Alexandra. Josh and Lanni have lived in almost ten homes within Lee's Summit or Lone Jack.
Josh is quick to credit Lanni with her eye for interior decorating and notes that she bears a big influence on the interior look of the model homes.
"She does some incredible work," he smiled.
The specially-designed floor plans are named after each of the children and include the Morgan, the Avery and the Alexandra, with various modifications of each, which include two-story, one and a half story, and ranch floor plans.
A regular participant in the Kansas City Home Builders Parade of Homes, Josh recently nabbed the coveted Grand Award for the Pick of the Parade in the $400,000 – $430,000 category and took second place in Distinctive Design in the same price range for The Morgan, his furnished model at The Paddock.
When not building the dreams of others, Josh and Lanni pursue their own passions, which include lots of time with the kids, playing in the backyard, traveling to Florida to fish, and enjoying the occasional weekend escape.
"I used to ride Harleys and do a lot of woodworking," he expressed. "But family time is our priority now." Of course, Josh and his family spend a lot of time in their outdoor living space where firing up the backyard grill and relaxing under the stars on a warm summer's night provides a slice of Heaven on Earth.
Still, this self-professed work-a-holic always keeps a finger on the pulse of his business.
"I work seven days a week," he commented. "But I love every minute of it. I try to get to every home being built at least twice a day. Technology helps, too, and allows me to work from home when I need to be with my family."
Family. To Josh, that's the most important thing in life, both personally and in the dreams he builds for his clients. When you choose Legacy Custom Homes, you don't just build a home. You become the architect of your own dreams while creating an enduring legacy. If these walls could talk, they would most assuredly say, "Welcome home."