Just as each custom home is unique, everyone's process for building a home will also look differently. If you're new to purchasing building a custom home, we know working with a builder can be an intimidating process. Please see our recommended steps below if you're considering building a custom home. We work hand-in-hand with our homeowners to ensure they understand what's involved and offer any assistance through each leg of the journey.
Take the first step in building your home today. Call (816) 365-9633
Building a New Home | Questions to Ask your Builder
1. Determine a location
If you want to build a new home, determine the part of the world in which you want to live. Even if you don't have a specific area or neighborhood selected, narrow down an area appeals to you. People choose areas for a variety of reasons:

Distance to work
Schools and community resources
Parks and outdoor accessibility
Shopping and other close conveniences
Areas to house livestock or pets
2. Sort of your sizes
Once you have a general area you live in, it's time to narrow down your options. A few things to sort out include sizes. Determine the size of:
Your budget – what can you afford?
Home – how much space do you need?
Time – what timeframe are you on and how quickly do you need the process to move?
3. Tour homes
Research builders in your area and contact them to see their spec homes. This will help you determine the style that you want. Make a list of features you like and want to mimic in your custom home. Go on the Parade of Homes tour.
4. Interview home builders
We recommend interviewing 2-3 builders as you're making decisions for your new home. This will help you determine if the builder is a good fit for you. As you meet them, here are a few questions to ask: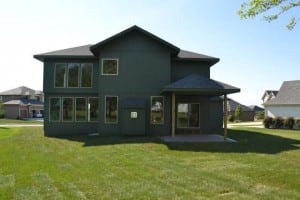 Are you a production builder or custom builder?
Do you allow homeowners to have your cell phone number?
What kind of contact do you have with homeowners?
Are you on-site, or who is our contact during the process?
What types of sub-contractors do you use?